Manchester, N.H. − ITR Economics is excited to announce our new partnership with FocusCFO.
FocusCFO is a leading provider of embedded fractional CFO services. Founded in Columbus, Ohio, in 2001, FocusCFO serves a wide range of small and medium-sized businesses (SMBs) in a variety of industries.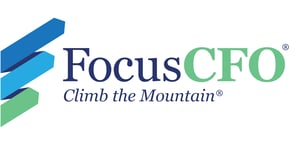 The 130+ associates at FocusCFO are passionate about helping entrepreneurs achieve their business and financial goals by guiding them on their climb to sustainable, transferrable business value. FocusCFO empowers business owners with sound financial management, forward-thinking insights and tools, and proactive financial strategies to help organizations improve internal cash flow, reduce business risk, and increase their value and efficiency. The FocusCFO Sherpa teams – comprised of former entrepreneurs and financial leaders – have "been there." They support clients with compassionate, personalized support and guidance on their climb.
"I am very enthusiastic about this new partnership with ITR Economics," said Michael Stier, Director of Marketing and Area President for the Carolinas at FocusCFO. "Our clients will greatly benefit from incorporating a greater understanding of economic trends and events from ITR Economics with our customized financial guidance, resulting in a degree of informed planning and decision making not previously available to owners and executives of SMBs. We fully expect the result of this partnership will be far better outcomes for clients."
The new partnership between ITR Economics and FocusCFO is a natural fit. With FocusCFO's financial expertise and ITR Economics' accurate sales and industry forecasting, the partnership provides a team of experts to support executives in building a reliable strategy. From this partnership, we aim to increase each of our clients' success through:
Increased understanding of economic events impacting business's financial performance
Educating SMBs on financial trends to provide clarity and guidance for executives
Actionable advice from the team of expert economists and chief financial officers' perspectives
"I've been working closely with FocusCFO to bring this partnership to life," said Kimberly Clark, Vice President of Sales and Marketing at ITR Economics. "We share the same vision of helping as many businesses as we can grow stronger through accurate, actionable insights derived from what may appear to be 'simply data.' In essence, we are data translators who both help executives make sense of the trends and support them using reliable foresight of what is to come. We are committed to providing the best information to those who work with us, and this common goal will only help strengthen the position of those who follow both our organizations."
We look forward to extending the value of this partnership to our clients and subscribers.
A special thank you to FocusCFO for partnering with us – we look forward to working together now and in the future! For additional information, we highly encourage you to check out FocusCFO's many resources, such as their blog.