By Alex Chausovsky on Feb 26, 2020 3:20:18 PM
ITR Economics is in the forecasting business. We forecast the macroeconomy, both for the US and the world, as well as a multitude of industries and vertical markets. However, what makes ITR truly unique and different from other economic forecasting firms is our proprietary business cycle forecasting methodology. This approach, our "secret sauce" if you will, is what enables ITR to forecast business performance for individual companies several (typically three, but sometimes five) years into the future. We can accurately predict the important measures of your business — including unit volume, shipments, and topline sales — well in advance, assuming we have a reliable company data history to work with.
There are two primary ways that private equity firms and others who buy and sell businesses can benefit from ITR's company forecasting ability. On the buying side of the transaction, particularly during the due-diligence and validation phase, ITR Economics can provide a reliable and independent perspective of the future growth prospects for a company. We do this by forecasting not only the underlying markets into which the company sells, but also the company's actual top line sales. This allows the potential buyer to determine the appropriate valuation for the potential acquisition, as well as the best possible time to purchase the business. In the chart below, for example, the red box shows the expected cyclical low point for the target company, which is both conducive to offering a lower purchase price for the business and indicative of a good time to pull the trigger on the acquisition.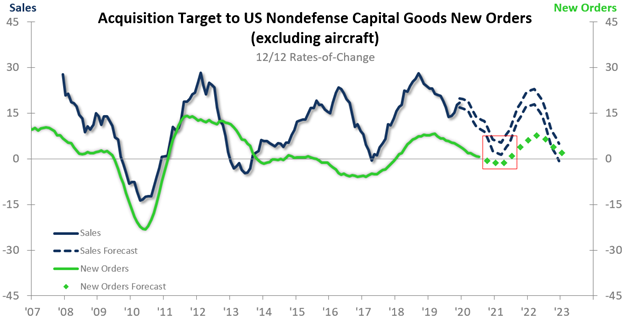 ITR's company forecasts can also be extremely helpful when it's time to sell a business. Whether you're a private equity or venture capital firm targeting a three-, five-, or seven-year turnaround for your investment, or a company owner considering your exit strategy, selling the business at the peak of its performance is the goal. ITR's forecasts can help pinpoint the timing and likely amplitude of the next cyclical peak. It is then up to the seller to line up buyers in advance of the peak so that the transaction can be executed at the best possible time. The red box in the following chart shows the expected business cycle peak, which indicates the ideal time for the business to be sold for the highest amount of money.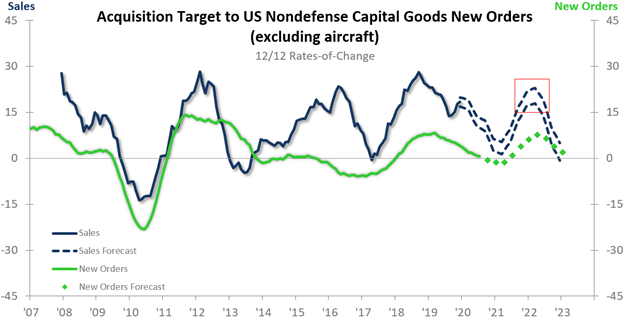 Private equity groups, venture capital firms, and business owners have long leveraged ITR's company forecasts in order to buy and sell companies at the right time and for the best possible price. If you'd like to discuss how a company forecast can help you with a future acquisition or business sale, please reach out to us!
Director of Speaking Services