Back to main Blog

Lauren Saidel-Baker
Lauren Saidel-Baker is an experienced speaker and economist. She graduated cum laude with honors in economics and a double major in religion from Wellesley College. Her experience in finance supports her commanding grasp of ITR Economics' programs and subscriptions and their practical applications.
Happy new year, and welcome to the 2020s! Prepare yourself for a decade of overall economic growth.
If you follow ITR Economics or have heard one of our speakers, you likely already know about our forecast for another Great Depression starting around the year 2030. If you aren't familiar with this topic, consider reading Prosperity in the Age of Decline, which outlines the causes, scope, and some strategies for withstanding this event. While the book was published in 2014, the key depression drivers cited by coauthors Brian and Alan Beaulieu – our CEO and president, respectively – are more prevalent than ever. Our forecast remains intact.
We have yet to fully quantify the magnitude of decline expected in the coming Great Depression, but it will likely be comparable to that first Great Depression of the 1930s. While this prediction seems dire, there is some good news in the near term. We expect the coming decade of growth – the 2020s – to be somewhat analogous to the 1920s. Welcome to the new Roaring Twenties!
There is an adage, often attributed to Mark Twain: History doesn't repeat itself, but it often rhymes.
The following graph shows the US Industrial Production Index from 1920 through 1940. The coming decades won't perfectly parallel this history, but it can serve as a reference.
US Industrial Production: 1920-1940
Source: Federal Reserve Board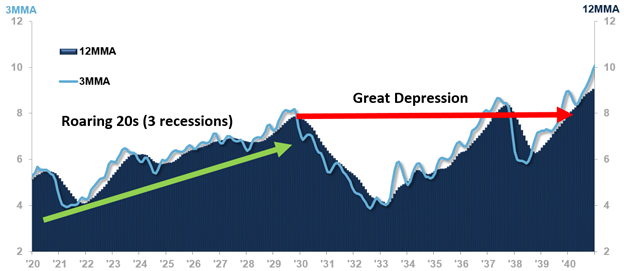 The 1920s were characterized by overall economic growth, prosperity, and social development. But even the Roaring Twenties did not exhibit straight-line economic rise. In fact, there were three significant recessions in the industrial economy during the decade. We expect the 2020s to be similar: overall growth with some recessions. Expect the industrial economy to contract mildly into mid-2020 and another recession in late 2022 into 2023.
Much like the 1920s, there will be economic ups and downs during the 2020s. Don't let these regular business cycles distract you from the overall economic rise. If you haven't already determined how you will take advantage of the opportunities that the 2020s will bring, now is the time. If we can help in this process, please reach out!
Whatever prosperity the 2020s offer, it will be critical to keep the looming Great Depression in sight. Use this decade to position yourself for the downturn. If you own your business and are considering an exit plan, the mid-to-late 2020s may be a good time to sell. At this point, we don't know exactly when the depression will begin – it could arrive anywhere from a few years before to a few years after 2030. Keep in touch with ITR Economics throughout the Roaring Twenties and be the first to know!
Lauren Saidel-Baker
Economist