We love rates-of-change at ITR Economics because they make the subtle seem obvious. The most recent reading for the US ISM PMI (Purchasing Managers Index) is an example of that. On the surface, the May PMI output was a great data point. It came in above the April number, which on a composite basis indicates a broad uptick in activity from the prior month. However, the month-over-month rate-of-change exhibited a barely perceptible shift that we will likely look back on as one of the earliest signals of slowing growth conditions for the economy next year.
Despite the PMI's strong monthly reading, the May 1/12 rate-of-change ticked down to 42.0% from the April level of 45.6%. We have preached often that one month does not make a trend. However, our internal analysis has concluded that it is highly probable that this cyclical peak will hold for the PMI 1/12 rate-of-change. Time – and data – will ultimately tell, but the initial downtick is a notable flash of yellow light in what has been a sea of consistently green data points for the last several quarters.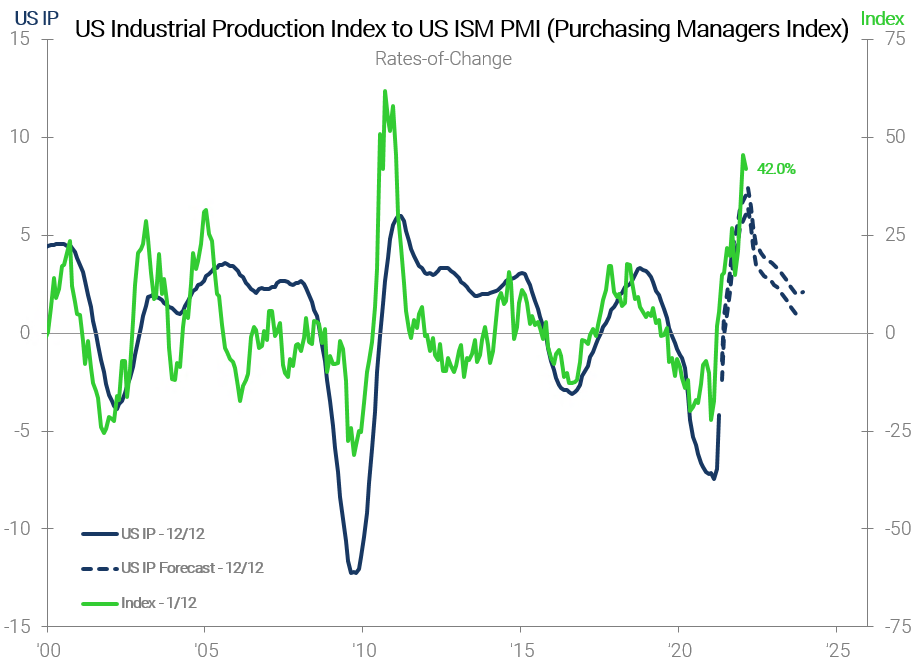 Should it hold, the tentative 1/12 rate-of-change peak shown above would support our expectation that slowing growth conditions will set in for the US economy in the first half of next year. Yes, most businesses will be consumed by Phase B, Accelerating Growth, conditions here in 2021, and the attendant "positive problems." However, a different phase of the business cycle lurks over the horizon for next year – slowing growth.
My personal opinion is that Phase C, Slowing Growth, in the business cycle is when rates-of-change really shine – by leveraging them, we can plainly expose a trend that is, in its initial stages, often barely noticeable. Missing the transition to Phase C can lead to particularly painful decisions for companies that overload at the peak of a business cycle.
Through the balance of 2021, most companies can and will continue to focus on their Phase B Management Objectives™, but this initial downtick in the PMI 1/12 rate-of-change is the first signal of slowing conditions next year and worth your attention. If you're not sure which Management Objectives you should be utilizing in preparation for Phase C, Slowing Growth, give us a call. We can help.
Connor Lokar
Economist