Our clients and subscribers know that we at ITR Economics are all about planning a business cycle ahead. In this post, I will discuss what's ahead, and I will also share some practical and actionable advice based on what's ahead.
US Industrial Production is one of our favorite macroeconomic benchmarks. It captures the manufacturing, mining (including oil and gas), and utilities sectors of the US economy. Below are the 3/12 and 12/12 rates-of-change for Industrial Production, taken from our Trends Report™.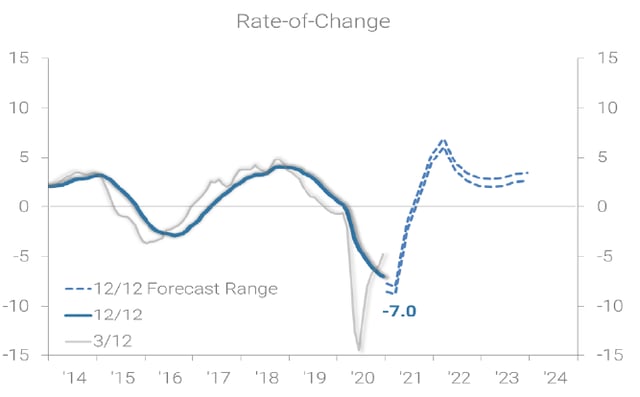 Based on the current position of the 12/12 rate-of-change, the US industrial economy is in Phase D, Recession, which likely comes as no surprise. Today, however, I want to focus on where we are going rather than where we are now or where we have been.
The Production 12/12 has yet to reach a low, but the 3/12 is rising and has upward-passed the 12/12. This positive ITR Checking Point™ suggests that a transition to 12/12 rise – and a new phase of the business cycle – is upon us.
We anticipate that as we move into 2021, US Industrial Production will transition to Phase A, Recovery. This phase of the business cycle will likely characterize the first half of the year before the next transition occurs and Phase B, Accelerating Growth, characterizes the remainder of 2021.
While it is important to understand what lies ahead of us, it's also important that we take the appropriate actions. We at ITR have strategies for you to consider that are based on the coming phases. We call them Management Objectives™. Here are a few examples, developed specifically for the approaching phases:
Start to phase out marginal opportunities (products, people, processes); repair margins
Hire key people and implement company-wide training programs
Make opportunistic capital and business acquisitions; use pessimism to your advantage
Ensure quality control keeps pace with increasing volume
Communicate competitive advantages; build the brand
Ensure you have the right price escalator; space out price increases
These are just a few examples of how practical and profitable decision-making can be adapted to specific phases of the business cycle. If you're looking for guidance that is expressly developed for your company or industry, we do that too! Ask about our consultative services.
Analyst and Speaker