The stimulus cavalry showed up in April, but consumer spending did not. The foundation has clearly been laid for consumer spending to come back on line. The question is, when will it?
On the stimulus front, we saw a demonstrable increase in overall income for the US consumer in April. US Disposable Personal Income increased to roughly $17.0 trillion in April 2020, up 13.8% from April 2019. This is an inflation-adjusted number that includes transfer payments from the government. This is the strongest month-over-month increase on record. On the surface, this seems inexplicable, given that tens of millions of Americans made unemployment claims during the month. However, this is the result of the fiscal stimulus delivered by the US government via the CARES Act.
US Disposable Personal Income
Three-Month Moving Average, Trillions of Dollars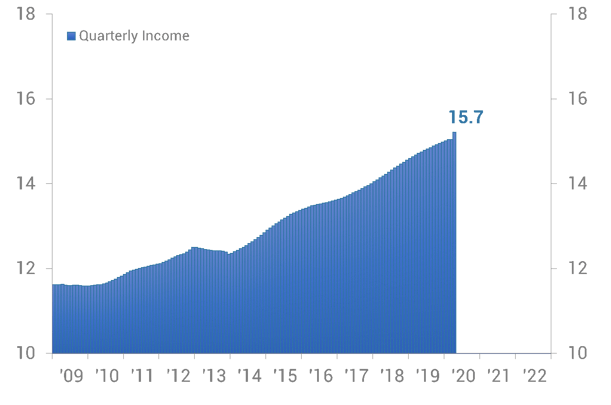 The pop in the 3MMA is quite noticeable and breaks well above the prior trend. However, this did not translate to a similar increase in retail activity. US Total Retail Sales plummeted to $401.0 billion in April. This is down 21.2% from April 2019, marking the sharpest such decline on record.
In other words, the consumer pulled back spending at the fastest pace on record while Disposable Personal Income rose at the fastest pace ever.
It is obvious that the severely negative impacts of the shelter-in-place orders, associated unemployment, and economic uncertainty around the country overwhelmed the positive impact of the stimulus in April. A big reason is that even the consumers that wanted to spend were very limited in their ability to do so. Travel, dining out, automotive purchases, and big-ticket consumer spending all took a major hit. The consumer chose instead to save a large chunk of those stimulus dollars, at least for now.
The US Personal Savings Rate (as a percentage of Disposable Personal Income) jumped up to 33.0% in April, more than four times the 2019 average Savings Rate of 7.9%. So, consumers stashed away roughly one third of their income in April, nearly double the prior record high Savings Rate of 17.3% set back in May 1975.
While the US government would have preferred that the consumer go out and spend those stimulus dollars in May, the good news is that the dry powder is stashed away. When the shutdowns are fully lifted and the reopening phases across the country are completed, consumers should be equipped to go out and spend as they wish. This would support the very mild uptick in GDP that we are anticipating on a 3MMA basis in the third quarter. It may be hard to see and believe right at this very moment, but the foundation for economic recovery is coming into focus.
How your business correlates to the leading indicators will tell you when that recovery will show up for you. Make sure you are ready when it does.
Connor Lokar
Economist