Sometimes the same thing can be seen two ways, as this popular optical illusion demonstrates.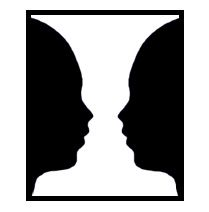 Do you see a vase, or do you see two profiles looking at each other? It is the same picture, but with two points of view. Life (and capitalism) can be the same way, where your point of view is everything. For instance, living in New York City provides one point of view while the numbers paint it differently.
Residential Rates
Walking around Manhattan might make you think that "everyone is gone!" - the numbers suggest that 246,000 people filed for a change of address since March. That is a near 100% year-over-year increase, exclaims one report. However, the numbers suggest that NYC is not emptying out and is not on the verge of seeing economic collapse from people leaving. The 246,000 people are 1.3% of the population of NYC. Furthermore, it seems a safe assumption that others will move to NYC when the pandemic fear begins to fade, given that residential rental rates are falling.
Falling residential rental rates are most likely very painful for many property owners, and some of them may be forced to sell. Reduced rental rates and even a slightly elevated vacancy rate could be expected to ultimately reduce the value of the property. In the case of a sale, the next owner may pick up a property based on today's current market value and the market's perception of a dismal future. Today's sale/purchase price could be well below the future market value as both renters come back to the city and rental rates rise again. One person's pain is another's gain; there are two realities.
The above scenario assumes falling prices. However, that too is a matter of perception. The chart below shows the New York City Metro Housing Price Index. The Price Index has slipped 1.6% from a March 2020 record high of 301.7, but the current 296.8 is still 1.4% above this time last year. The current seller may have to sell at lower than the most recent peak, but if that seller has owned the property for more than a year, a profit would still be made. That is not the perception you would get from the media or from most people. Not selling at the peak is far different from selling at a loss.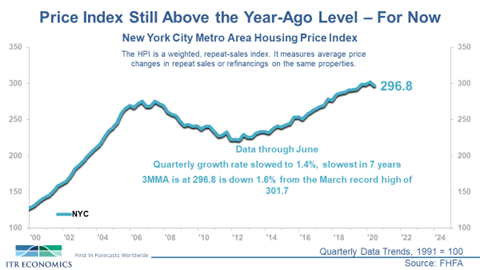 Small Businesses
Another reality is that many small businesses in NYC may not reopen. CBS News and The New York Times state that one-third of small businesses may be gone. (The New York Times in August stated that one-third of small businesses may be gone, repeating a CBS News story from July.) That is an extremely harsh reality for a lot of entrepreneurs, employees, their families, and the entire supply chain. That hardship should not be ignored – it is a reality. The other reality from the same situation is that, post-pandemic, there will be new opportunities for these same entrepreneurs and employees, or for different people entirely, to fulfill the demand presented by an economic rebound in this resilient city. The reality for the latter group is that the downturn has presented them with an opportunity to start new establishments with a lower cost basis (interest on many loans and potentially reduced rents caused an excess of available space). Yesterday's restaurant failure is an opportunity for the new restauranteur, or for the surviving restaurant.
Two views, two realities. The question then becomes one of how we look at the situation, and if we are looking for a way to maximize our potential based on today's reality.
Alan Beaulieu
President