Back to main Blog

Lauren Saidel-Baker
Lauren Saidel-Baker is an experienced speaker and economist. She graduated cum laude with honors in economics and a double major in religion from Wellesley College. Her experience in finance supports her commanding grasp of ITR Economics' programs and subscriptions and their practical applications.
The level of US federal debt will roughly equal the size of the entire US economy in FY2020, according to the nonpartisan Congressional Budget Office (CBO). In an early-September update which included the effects of the COVID-19 pandemic, the CBO stated that it now expects debt to rise to 98% of GDP for the fiscal year ending September 30 and exceed the 100% mark in 2021. By 2023, the ratio is expected to reach 107%, the highest in history.
The previous peak debt-to-GDP level, and the most recent year in which the ratio exceeded 100%, was in the aftermath of World War II. The ratio of 106% in 1946 reflected wartime military spending.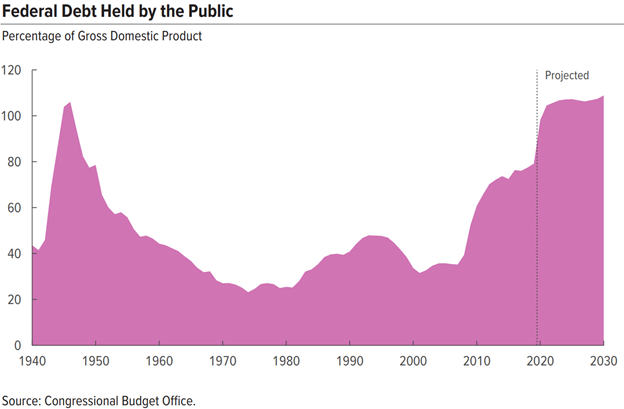 Deterioration in the debt-to-GDP ratio is being exacerbated by worsening in both the numerator and the denominator:
Debt levels are rising sharply as deficit spending increases. Pandemic-induced government spending is coinciding with falling revenues as a result of the economic disruption. The CBO expects federal outlays to rise from 21% of GDP in FY2019 to 32% this fiscal year.
At the same time, GDP is in recession for the first time since the 2008 global financial crisis. We at ITR expect a recovery to take hold in the near term, and for quarterly GDP to begin rising in the second half of the year.
Importantly, worsening debt metrics are not yet affecting the country's ability to borrow. If anything, US government debt is viewed by investors as a safe-haven asset, and flight-to-safety trends are beneficial.
Although the debt-related headlines may sound sensational, keep in mind that there is no formal threshold for national debt metrics. While the trends are concerning, we at ITR were sounding the alarm on the US federal debt before the onset of the COVID-19 pandemic, and we will continue to discuss the repercussions. Elevated debt metrics are key factors in our Great Depression forecast, and the current trends only make this eventuality more likely.
Federal debt exceeding GDP is a cause for concern but not for panic. Stay the course, keep following your leading indicators, and give us a call if we can help!
Lauren Saidel-Baker
Economist