"Highlight your competitive advantages so you do not have to compete on price alone."
This is a Management Objective™ we frequently give to our clients, and, in today's environment of rising costs and slowing macroeconomic growth, businesses are instinctively practicing it.
The automotive industry is an obvious case. Have auto sellers been touting "low, low financing" lately, or promising the lowest purchase prices available, backed up with a pledge to undercut any competitors? No. They are focusing on the buyer experience, and the word "inventory" factors heavily in their advertising:
"We won't be pushy – plus, we actually have cars!"
The industry's well-publicized supply chain woes being what they are, this is indeed effective messaging; it conveys the availability of something that competitors may not be able to offer.
Today it is especially important to "not have to compete on price alone" because prices are high across the board. US consumer inflation – calculated as the percentage change between the latest month of pricing data and that same month from one year earlier – was at a 40-year high in March, coming in at 8.5%. At 15.2%, producer inflation was at a 47-year high. As producers are arguably under a tighter squeeze than consumers, there is little they can do with prices besides raise them.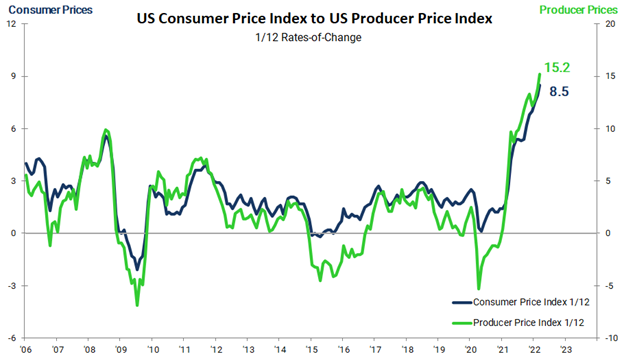 Putting your business in the position to be competitive in areas outside of pricing seems obvious – even simplistic – but there is more to the Management Objective than just that.
Notice what it does not say: "Do not compete on price under any circumstances." It is true that significantly undercutting competitors on equivalent products or services may be difficult – and counterproductive, profits-wise – in the current environment. It is also true that consumers will likely grow more price-conscious as macroeconomic growth slows in this inflationary environment. Alternative products or services with a lower cost basis may be welcome options for some customers for the next several quarters.
As for competitive advantages, be creative. While unique products or product features make for obvious competitive advantages, sometimes the value proposition is outside of the product itself. In a recent advertisement, a seller of higher-end garden and tool sheds poked fun at its larger-scale competitors, dubbing them "wasn't us companies." Such companies, the ad explained, typically use separate contractors for the delivery and installation of their products. Then, when something inevitably goes wrong with one of those ancillary services, the larger company will make an aggravating (but truthful) claim: "Wasn't us."
Meanwhile, the higher-end shed seller delivers and installs the shed itself, offering customers a one-stop shop for accountability.
The current environment represents a new experience for many of today's business leaders, who may not have been in the workforce or even alive the last time inflation was this high. However, ITR Economics' depth of bench includes both lived experience and unmatched expertise in this area. We count it among our own competitive advantages.
Please reach out to us if you need help navigating this environment of elevated pricing. We can even provide a custom price index created specifically for your business and forecast it a year out, so you can better understand the input cost pressures you are likely to contend with for the next several quarters.