The New Indicator:
Our team has added a powerful new tool to ITR's existing family of indicators! The new ITR Remodeling Market Index™ was specifically constructed by our team to provide your business with insights into the residential remodeling industry. Similarly to how you use the ITR Leading Indicator™ to shine a light on how the macroeconomy will be forming in the future, you can now use our proprietary Remodeling Market Index to provide you a new look at the housing remodeling industry.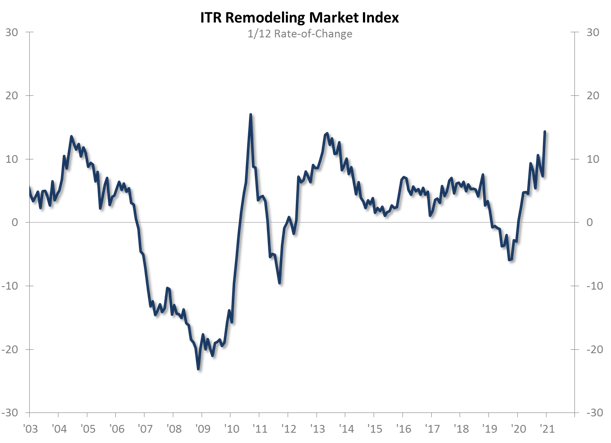 What Does it Mean:
The Market Index's 1/12 rate-of-change – that is, the performance of each month relative to its performance one year prior, expressed as a percentage and charted across years – is on the rise. This suggests that remodeling activity will rise at an accelerating rate into at least the middle of this year. The housing market is hot right now, and the strength of new construction combined with low existing housing inventory is leading to the increased activity in the remodeling market. Following the ITR Remodeling Market Index will help you plan with greater confidence, as it gives you an additional indicator for your arsenal.
You can use the ITR Remodeling Market Index in your DataCast™ program, or you can have a discussion with your team here at ITR Economics about how to best incorporate the new indicator into your customized program.
Jackie Greene
Director of Economics