As we were evaluating the data for US Nondefense Capital Goods New Orders (excluding aircraft), we noticed a discrepancy. The discrepancy in this key business-to-business indicator stems from the way the Census Bureau has been accounting for the extraordinary, pandemic-related rise in canceled aircraft orders as it tabulates the data.
This data abnormality is resulting in a disconnect between New Orders movements and what our clients in this space are experiencing. While waiting for the Census Bureau to potentially revise the data to reflect the economic fundamentals, we conducted an analysis and adjusted the data internally in order to better meet our clients' needs. If you utilize our ITR DataCast™, ensure you refresh your analysis to reflect the latest data.
ITR-adjusted New Orders in June, July, and August came in 5.1% below the same three months in 2019. While New Orders are below the year-ago level, there are signs of recovery. However, that does not mean you are out of the woods just yet. We expect New Orders on a 12MMT basis will rise in 2021 and 2022, but activity for many companies will not rebound to pre-COVID levels for multiple years.
This is a great time to take care of a still-sluggish new orders trend. Check into the cost and availability of the capital expenditures that will make your business more efficient and thus more profitable. You will need both as you go forward, and now is a good time to negotiate pricing and potentially avoid a delayed delivery date.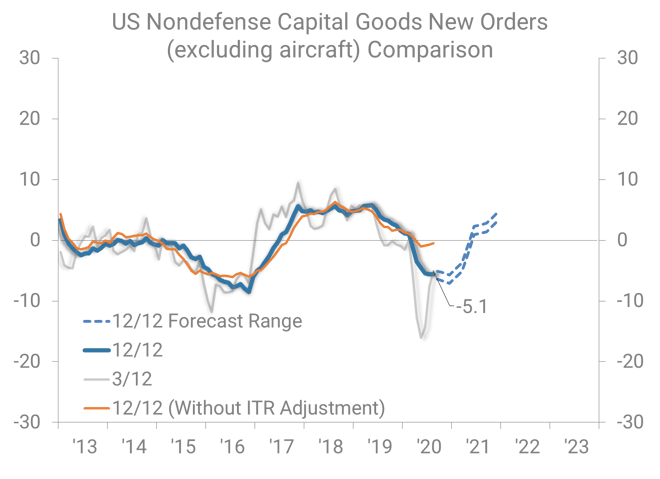 Jackie Greene
Director of Economics