The results of the 2020 Census made headlines by prompting the reapportionment of seven net seats in the US House of Representatives. This will not immediately shift the political balance of power, but the change should be of interest to businesses due to the underlying population trends that it illustrates.
Population growth stimulates economic growth. Businesses that are located in or serve states or regions with higher population growth will not only find greater numbers of consumers for their products but also may find it easier to hire and retain qualified workers. Conversely, in demographically challenged areas, consumer-led growth opportunities will likely be fewer.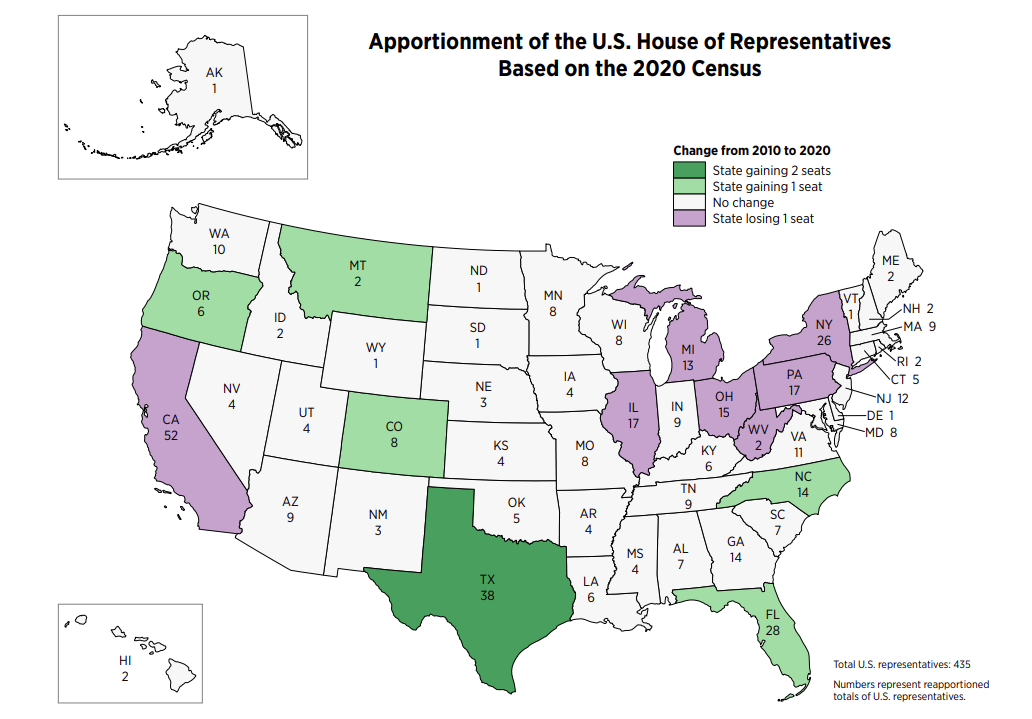 Texas was the big winner, gaining two House seats. In fact, Texas has been one of the fastest-growing states since the previous census a decade ago. The state enjoyed a 15.9 % increase in its resident population between 2010 and 2020, posting the highest percentage change after Utah, at 18.4%, and Idaho, at 17.3%.
Five other states gained one seat each: Colorado (+14.8%), Florida (+14.6%), Oregon (+10.6%), Montana (+9.6%), and North Carolina (+9.5%).
Over the past decade, only one state population has declined significantly – West Virginia was down 3.2%. Two states' populations were nearly flat over that time; Mississippi and Illinois were down 0.2% and 0.1%, respectively. Several other states posted growth but underperformed the 7.4% overall US population growth to a degree that resulted in the loss of a seat each.
Overall, the states that lost one house seat were California (+6.1%), New York (+4.2%), Pennsylvania (+2.4%), Ohio (+2.3%), Michigan (+2.0%), Illinois (-0.1%), and West Virginia (-3.2%).
The total US population is growing, which bodes well for broad-based economic growth, but this growth will not be distributed equally. Consider your own business footprint, and whether expanding into neighboring states or regions may result in more robust growth opportunities. As always, please let us know if ITR Economics can provide the data or insights to help!


Lauren Saidel-Baker
Economist