Back to main Blog

Lauren Saidel-Baker
Lauren Saidel-Baker is an experienced speaker and economist. She graduated cum laude with honors in economics and a double major in religion from Wellesley College. Her experience in finance supports her commanding grasp of ITR Economics' programs and subscriptions and their practical applications.
If you follow economic headlines, you have likely recently read about trends in the labor market. Stories typically center on the persistently elevated levels of new jobless claims, or the statistic that long-term unemployment is close to reaching a level not seen since the Great Depression.
However, if you are involved in hiring efforts at your company, you likely have a very different perspective. Qualified workers, especially in niche markets or with specific skillsets, remain difficult to find and hire.
This discrepancy between the media narrative and business leaders' experiences is jarring, and it leads many to ask, "Where are all these unemployed workers, and why am I unable to hire them?"
Although the unemployment rate remains elevated relative to its pre-pandemic level, it has decreased by more than half since its April 2020 peak. The pace of decline, as seen in the chart below, reveals a very different labor market than would be expected for a recession. Following the cascade of furloughs, layoffs, and other job losses early in the pandemic, the rate of reabsorption of unemployed workers has been dramatically faster than in other recent recession cases, which are represented here by the Great Recession and, to a lesser extent, the early-2000s recession. In fact, last year's sudden spike and subsequent drop in the unemployment rate seems to suggest a short-term, pandemic-triggered dislocation in the labor market rather than a deeper imbalance.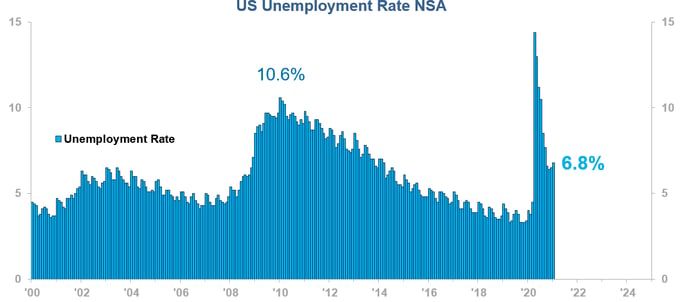 Measured as a percentage. Source: US Bureau of Labor Statistics
Even in the absence of a materially looser labor market, business leaders can still find ways to ease their employment-related constraints. For some businesses, automation and new technology will enable an existing workforce to become more efficient. For others, new pandemic-induced norms, such as remote work, may open access to new labor markets, without geographic limitations. Consider creative solutions to finding qualified hires. In some cases, you may need to train unique skillsets yourself. Consider partnering with a local school to offer training programs, internships, or apprenticeships. Above all, focus on retention efforts. Your existing workforce is already in place and trained, and if they are attracted away by a more compelling job offer, it will likely cause disruptions.
With economic recovery impending, now is the time to ensure that labor difficulties will not hamper your ability to meet demand. As always, please reach out if we can help!
Lauren Saidel-Baker
Economist