After disastrous decline during the first and second quarters of 2020, Europe is in an encouraging but still nascent economic recovery. However, COVID-19 case numbers are rising rapidly in Europe, and, in contrast with the US, this is the first resurgence of cases and deaths the eurozone has faced since the initial surge early this spring.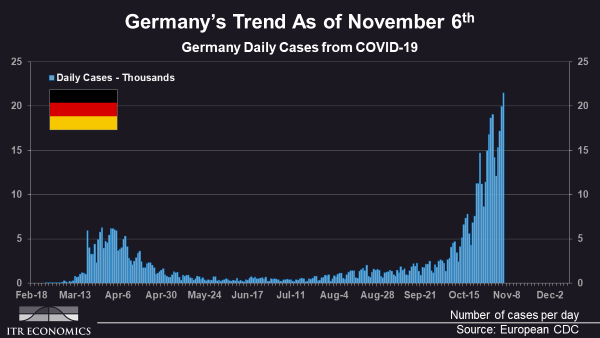 According to the latest available data, Europe Industrial Production is recovering on a monthly and quarterly basis off the most severe rates of decline sustained during the second quarter of 2020. In September, the most recent month of data, the monthly figure for Europe Industrial Production was 5.8% below the September 2019 level. In a vacuum, this is an ugly number, but it becomes more appealing when contrasted with the 27.7% month-over-month decline exhibited in April.
For another bit of good news, it is worth noting that the Europe Leading Indicator 1/12 rate-of-change maintained a rising trend through September. This metric leads the Europe Industrial Production annual rate-of-change through the business cycle by 10 months. So, ascent through September in the Europe Leading Indicator 1/12 implies ongoing recovery for Europe through the first half of 2021, at a minimum, as things currently stand. Additionally, we are witnessing similarly encouraging rise in the rates-of-change for the Europe Manufacturing Purchasing Managers Index, OECD Plus Six Leading Indicator, Europe Economic Sentiment Index, and Europe Business Confidence Index. Heading into the fourth quarter, the eurozone's momentum was clearly positive.
The big caveat to all this is that September economic data is the latest available for Europe at this point, and, as you can see in Germany's trend charted above, the most acute increase in COVID-19 cases really started to occur with the onset of October, worsening through that month and the early days of November. This has been accompanied by the reinstatement of some lockdown measures in the more heavily affected areas of Europe.
Key for the closing weeks of 2020 will be Europe's ability to preserve its economic recovery while simultaneously battling this second wave of cases. Fresh datapoints in the weeks ahead will be telling regarding the fragility of Europe's economic recovery and its ability to weather some resistance stemming from COVID-related complications. We will be monitoring such developments closely and will keep you updated as the situation progresses.
Connor Lokar
Senior Forecaster