Freight costs seem to be on everyone's mind as we talk to clients individually and as we deliver keynotes. The US Long-Distance General Freight Trucking Truckload Producer Price Index (PPI) from the Bureau of Labor Statistics reflects a record-high 34.4% rate of inflation for April from one year before.
The data spans almost 30 years, and we have never experienced an increase even close to this large. It may be hard to contemplate given wage increases, current diesel costs, and the natural tendency to linearly extrapolate recent trends, but the General Freight Trucking PPI will be shifting from escalating inflation to deescalating inflation (disinflation) in the last quarter of this year. What follows is why we are projecting this disinflation trend.
1. The rapid increase in the movement of freight, as measured by the US Transportation Services Freight Index 12/12 rate-of-change, is approaching a cyclical peak. This is logical based on a slowing rate of growth in the economy, and thus the volume of freight will remain high and continue to rise, but at a slowing pace. There are numerous indicators to support the prospect of a near-term Freight Index 12/12 high, including the ITR Leading Indicator™, the 3/12 decline in the stock market, the decline in the US Nondefense Capital Goods New Orders (excluding aircraft) 3/12, and the tentative high in the US Total Industrial Production 12/12. The chart below shows that a high in the Freight Index 12/12 is a reliable indicator of downside cyclical (rate-of-change) pressure on the Freight PPI.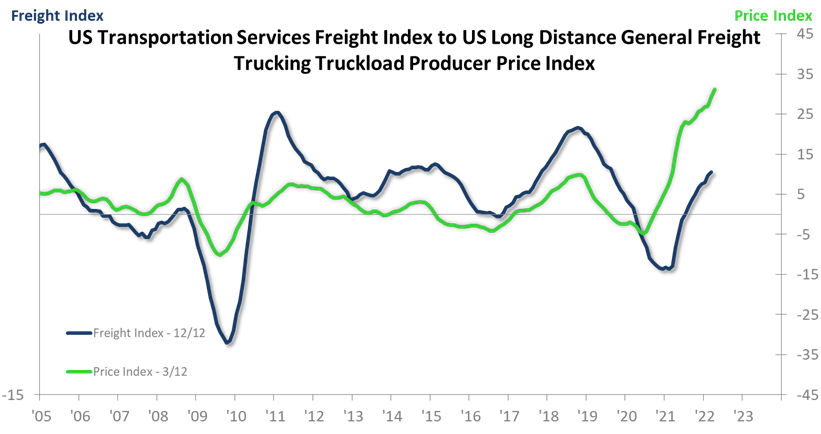 2. There is a decline in the US Truck Transportation Average Annual Wage 3/12 rate-of-change. Please note this does not mean wages are going down, but rather that the rate of rise is easing. The timing of the 3/12 high in the wage trend means that the corresponding high in the Freight PPI 3/12 is imminent. This means the PPI will be reflective of less inflation after the rate-of-change high is established.
A decline in the Freight Index rate-of-change and the resulting decline in the Freight PPI rate-of-change likely signal that delays in getting freight shipped will be down, especially for firms that source domestically.