If you have noticed your business slowing down or activity becoming spotty, plan on working through the slowdown phase of the business cycle through the first half of 2020. Keep track of the leading indicators and strategize about what resources you are going to deploy during the business cycle rising trend that we are projecting will begin in the second half of 2020.
The US economy and the global economy are slowing down. Outright contraction was evident with some of the recent data, but we think "deceleration or flat-lining" is a more apt description of what to expect for the economy through the first one to two quarters of 2020. None of this is news if you follow our forecasts and know how your business lines up with ITR Economics' forecasts. You should have already planned how you are going to protect/increase profits based on that prior forecast. You need to play catch-up and act quickly if you were waiting to see if it was going to happen.
It is now time for you to think one-half business cycle ahead and plan what you are going to do for the next change. The next shift in the business cycle will be one of accelerating rise. Recovery in the second half of 2020 will quickly give way to a US (and global) economy that is gaining ground on the upside of the business cycle. We are scouring the leading indicators in anticipation of seeing empirical data to support our upside forecast for 2H20 and 2021. We have three leading indicators giving us reasonably solid positive signals for the next ascent. We need two more before our confidence level goes into normal territory, which would mean you should plan/act for your business accordingly. The table below presents how some of the leading indicators we monitor are trending.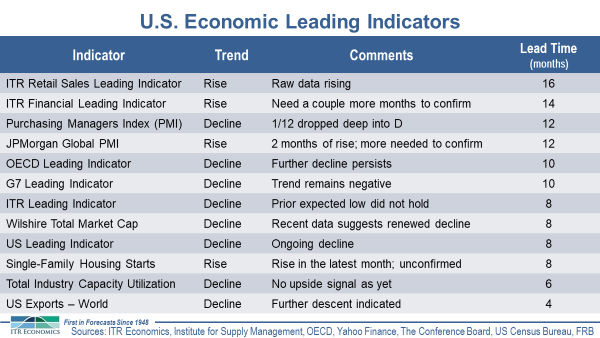 ITR Economics will be able to measure the performance of the upside leading indicators and come to some statistically reasonable conclusions once we have the five positive leading indicators in place. Using our Universality of Cycles Concept, we will develop a working model based on empirical data on the 2020-2021 rate of growth for such indicators as Retail Sales, Total Industrial Production, and GDP. This is going to be crucial input because our theoretical input to the next rising trend is telling us the cyclical ascent will be milder than many people will expect. That means you will need to carefully calibrate your marshaling of talent, working capital, and geographic reach to get the most of the ascent without outrunning the cycle as the probable recessionary downside of the cycle develops. For some of us, that very specifically means don't overinvest in what we currently do as firms; rather, invest in leveraging your resources to develop the means to stay out of the next recession. You are going to manage to beat the cycle to the extent that you are able to sell new products/services or a different application of what you are already doing, or are moving into a new demographic or geographic market.
A frequent question these days is how the 2020 elections might impact our forecast. Don't worry about the election; it is the business cycle that is going to drive your business up, and down, in the 2020-2023 period.