Back to main Blog

Lauren Saidel-Baker
Lauren Saidel-Baker is an experienced speaker and economist. She graduated cum laude with honors in economics and a double major in religion from Wellesley College. Her experience in finance supports her commanding grasp of ITR Economics' programs and subscriptions and their practical applications.
In a recent post, my colleague Alex Chausovsky outlined population's impact on economic growth on the global scale. He inspired me to turn to the domestic stage for an analysis of state population growth.
Between 2010 and 2017, population growth averaged 5.5% for the US as a whole. Delaware boasted the highest growth rate, 15.3%, over these years. A state with a relatively small population, however, needs fewer new residents to achieve such a high growth rate. The double-digit rates recorded by Texas (up 12.6%) and Florida (up 11.6%), both high-population states, are therefore that much more impressive. There were three states that posted population decline between 2010 and 2017: West Virginia (down 2.0%), Vermont (down 0.3%), and Illinois (down 0.2%).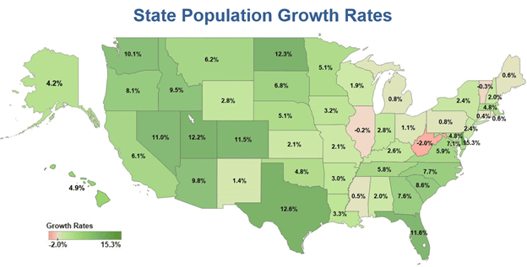 Population shifts within the US – i.e., residents leaving one state for another – are first for our consideration. Migration within the US has most strongly favored moves to the Sun Belt region, Colorado, Nevada, and the Pacific Northwest. These gains have come primarily at the expense of California, the Mid-Atlantic region, Illinois, and Louisiana. But while intra-US migration is a zero-sum game, other factors can have a distinct impact on overall population growth.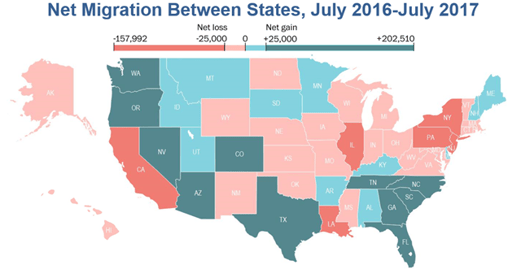 The birthrate in the US has been declining in recent years and is now below the net replacement rate required to maintain a stable population. In 2017, 3.85 million babies were born in the US – the lowest number since 1987. This figure equates to a total expected lifetime fertility rate of 1.765 births per woman, well below the estimated replacement rate of 2.1 births per woman. In fact, Utah and South Dakota are the only states with fertility rates higher than the replacement rate. With birthrates below replacement level, international immigration will be increasingly important for maintaining overall population growth in the future.
Changes in state populations may impact political representation in the near future. Apportionment of the 435 House of Representatives seats is determined by state population and will be reevaluated following the 2020 census. If the Census Bureau's 2018 population estimates hold over the coming two years, seven seats could move. Texas could gain as many as two seats while Arizona, Colorado, Florida, North Carolina, and Oregon could each gain one. Meanwhile, Illinois, Michigan, Minnesota, New York, Pennsylvania, Rhode Island, and West Virginia may each lose a seat. Although these changes will not likely swing the balance of political power, they clearly demonstrate the impact of state population growth.
Consider whether population changes may impact your business or point to areas of growing opportunity for you. In states posting population decline or marginal growth, it will be much more difficult to find and hire qualified labor. Furthermore, in those more demographically challenged regions, there is less potential for consumer-led growth in markets such as housing, auto sales, and retail activity.
Lauren Saidel-Baker, CFA
Economist