The latest batch of European data is in, and Western Europe is officially in Phase D, Recession. Western Europe Industrial Production (includes industrial output from Germany, France, the United Kingdom, Italy, Spain, Benelux, and Scandinavia) during the most recent 12 months averaged 0.2% below the Production level at this time last year. This marks Western Europe's first entrance into the recession phase of the business cycle since April 2012, when the eurozone debt crisis was intensifying.
This is not a surprise, at least not to those following along with ITR Economics, as we have called for Western Europe's mid-2019 transition to the recession phase since all the way back in March 2018, when we put our current outlook in place. Our leading indicator methodology enabled us to see this downturn coming more than five quarters ago. As good as things were feeling in the eurozone economy in early 2018, the leading indicators were signaling a negative trajectory for European economic growth through the remainder of that year and beyond.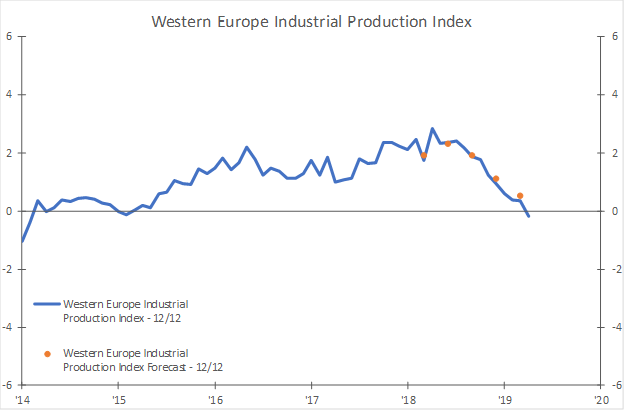 Fortunately, as we enter the darkest and most turbulent period of the business cycle, we are starting to catch a glimpse of the light at the end of the tunnel – the next upswing – in those same leading metrics.
During recent months we have seen upward movement in the following leading indicators:
Europe Manufacturing Purchasing Managers Index 1/12 rate-of-change
Europe Leading Indicator 1/12 rate-of-change
DAX Stock Index 3/12 rate-of-change
Europe Composite Purchasing Managers Index 1/12 rate-of-change
These metrics suggest that Western Europe Industrial Production will reach a cyclical low potentially as early as the end of this year or as late as mid-2020. To follow up on our May blog post on the subject, we think the European economy will be in recovery by early 2020. Executives with exposure to the European economy and consumers may be able to leverage the same leading indicators to see when this upturn will materialize for their businesses. Until then, it is going to be a bumpy road in the eurozone.
It would also be typical to hear a lot of scare talk in the media as the year wears on. Recently, Ford Motor Co. announced high-profile job cuts planned for its European business. Deutsche Bank, a pillar of the European finance sector, did the same. Both generated a stir in the media. But by following along with the empirical data points, we can stay grounded and focus on what appears in the data to be a well-developed recovery in Western Europe by this time next year.
Obviously, things can change. A hard Brexit later this year or an escalation in the US-China trade conflict with collateral damage to the eurozone are a couple downside risks that come to mind. If they do materialize, and the leading indicators reverse course, we will be here to give you a heads-up on what that means for you and your business.
Connor Lokar
Economist