The headlines around Germany, Europe's largest economy, present you with a mixed view of where things are going. Even well-respected outlets are posting contradicting outlooks of recession and growth within days of each other. We deciphered the situation and prepared a forecast for Germany Industrial Production accordingly.
The Key Takeaway
Expect Germany Industrial Production to contract into the second quarter of 2022. The economy will rebound in the second half of 2022, which will bring the year as a whole to approximately 0.6% above the 2021 level.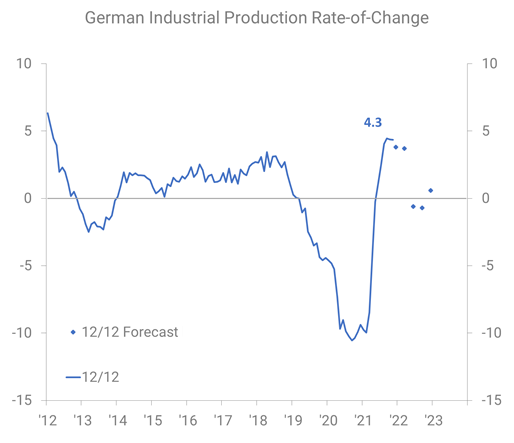 The "Why"
The auto sector accounts for roughly 10% of Germany's Gross Domestic Product (GDP) and is a driving force behind the country's current pain. Germany's auto sector is not immune to the chip shortages that have been plaguing US manufacturers throughout the pandemic. However, US manufacturers appear to be resolving this supply constraint faster than German manufacturers. Volkswagen, the second-largest manufacturer in the world for 2021 in terms of market share, announced that it would likely produce fewer cars in 2022 than in 2021 due to the chip shortage, highlighting the ongoing struggles in the German auto industry that are then hindering the rest of the country's economy.
The Risks
When putting forth a forecast, we examine the potential risks to the forecast. This helps ensure our accuracy but also keeps us abreast of changing situations that may require a change the forecast. Here are three particularly noteworthy risks:
Germany is taking an active approach to regulating vaccination, and the unintended consequences on labor force participation could result in Industrial Production falling below the forecast range.
Tensions between Russia and the EU over Ukraine are increasing, and potential sanctions and shortages could further hinder the already constrained EU supply

chain

.
In contrast, if German automakers resolve the chip shortage issues more quickly than anticipated, it will have a positive impact on Germany's economic outlook.
As Germany is the largest economy in Europe, we are actively reviewing our Western Europe Industrial Production forecast, which is included in the ITR Trends Report™. For more immediate answers on how this outlook impacts you and how you can use the forecast to maximum advantage, please do not hesitate to contact us.
Jackie Greene
Vice President, Economics