2020 was a challenging year for many industries, and the oil and gas industry was no exception. COVID-19 was just half the battle for the industry's exploration and production (E&P) companies, as the low-price environment compounded difficulties from a cash flow and profitability standpoint. However, in the most recent months, the industry has been showing signs of life and good things to come.
US Crude Oil Spot Prices averaged $59 per barrel in February. This price appreciation has been crucial for the E&P companies and has the number of rigs on the rise. Baker Hughes reported an average of 586 drilling rigs actively exploring for or developing oil or natural gas in the US, Canada, and Mexico. This is a significant increase from the low of 299 rigs back in July of 2020. However, even with the number rising to 586 in February, the annual average Rig Count is still 56.6% below the year-prior level and in Phase D, Recession, as you can see in the chart below.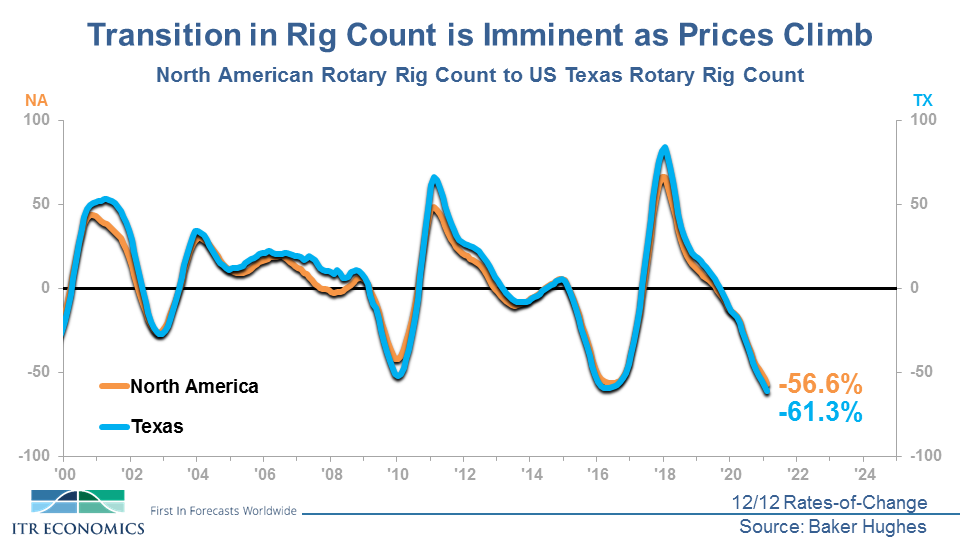 So, when will Phase D, Recession, come to an end, and when will the North American Rotary Rig Count officially transition to Phase A, Recovery? Well, the recent improvement in the monthly figures is a start. The Rig Count's quarter-over-quarter growth rate, or 3/12 rate-of-change, upward passed the 12/12 rate-of-change, and the ITR Checking Points™ suggest that a transition to Phase A, Recovery, is imminent. We couple this analysis with a host of leading economic metrics that by and large support increasing levels of drilling activity.
It's important to note that while Spot Prices showed improvement in February, there are several challenges that the industry faced that month due to the deep freeze in the southern US. The impact of the deep freeze on E&P operations will likely prove temporary, but it did contribute to mild disruptions, especially from a logistics and transportation standpoint.
Declining inventories, rising prices, and elevated production levels point to a more attractive year in 2021 compared to 2020. There will be increasing demand from your customers that are tied to the oil and gas industry this year compared to last. This is especially important for the suppliers to the industry. Prepare for this heightened level of activity now to avoid capacity constraints in the future. To stay current with oil production and price information, subscribe to our ITR Trends Report™.
Analyst and Speaker