Back to main Blog

Taylor St. Germain
As an experienced economist, Taylor St. Germain provides consulting services for small businesses, trade associations, and Fortune 500 companies across a spectrum of industries. His dynamic personality and extensive knowledge of economic trends and their business relevance are highly valued by clients and colleagues alike.
So far, our forward-looking economic indicators have shown continuous improvement in 2021. Still, I continue to hear concerns about the state of oil and gas, specifically from a production standpoint. Today I will focus on the natural gas side of the equation. For more information on oil, please check out my recent webinar, "The State of Oil and Gas in 2021," as well as our ITR Economics Trends Report ™.
As of this writing, US Natural Gas Spot Prices for the last three months averaged $2.73 per million British Thermal Units (BTUs), up 55.1% from the same time last year. While the US consumer may greet appreciation in another input cost with a groan, US natural gas producers typically take such a trend as good news. As described in the Trends Report, our forecast anticipates general rise for natural gas prices through the duration of this year.
Typically, higher prices signal a demand for natural gas, and therefore we should also expect to see production increases through this year, right? The answer is yes, and we have leading indicators that suggest this is very likely. The chart below displays the relationship between the US ISM PMI (Purchasing Managers Index) 1/12 and the US Natural Gas Production Index 12/12.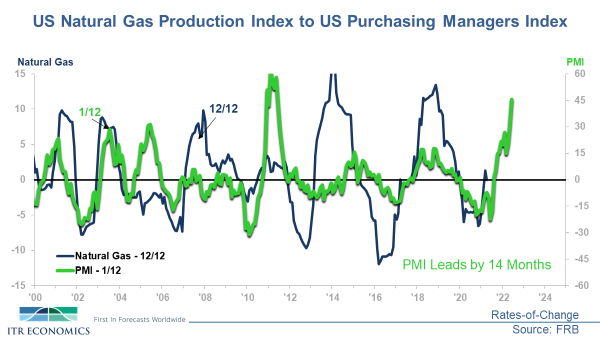 A few important takeaways from this chart:
Note that the US ISM PMI 1/12 is shifted forward 14 months to represent its lead time to US Natural Gas Production.
The recent rise in the US ISM PMI 1/12 suggests that the Production 12/12 will continue to rise; i.e., higher levels of Production are expected in 2021 compared to 2020.
So what?
If your organization supports natural gas production and extraction, then you should be prepared for higher levels of activity in the second half of 2021. It is important to plan your inventory levels and production capacity accordingly. If natural gas is an input or represents a cost of running your operation, you should plan for higher prices this year and consider passing along those increases to protect your bottom line.
The economic indicators are clear, and we should expect higher levels of production as we progress through the year. Don't worry too much about whether the demand will be there. Instead, ask yourself: "Am I prepared for increased demand?"


Analyst and Speaker