The latest US Retail Sales data was released last week, and the headline number is encouraging. US Total Retail Sales for the 12 months through July are at a record $6.965 trillion, up 14.0% from this time last year and in Phase B, Accelerating Growth. The consumer is healthy and spending. If your business tracks in sync with US Retail Sales, you are likely in the midst of a very good year. However, if you subscribe to the ITR Trends Report™, then you also know that we are anticipating slowing growth next year.
We are nearing the end of summer and quickly approaching budget season. As you watch the indicators and markets, be thinking about how to use these benchmarks to set accurate and strategic sales targets using the leading indicators. Using the indicators will help you avoid straight-line projections and utilize the business cycles to more accurately budget. But we cannot overlook that having the right indicator is paramount.
Honing in on your specific markets and indicators can provide you with a more concise and applicable benchmark to use for your planning. We already mentioned the Phase B occurring in Retail Sales, but not all components of Retail Sales are performing the same. Multiple segments of Retail Sales, including US E-Commerce and US Grocery Stores, have already transitioned into Phase C, Slowing Growth.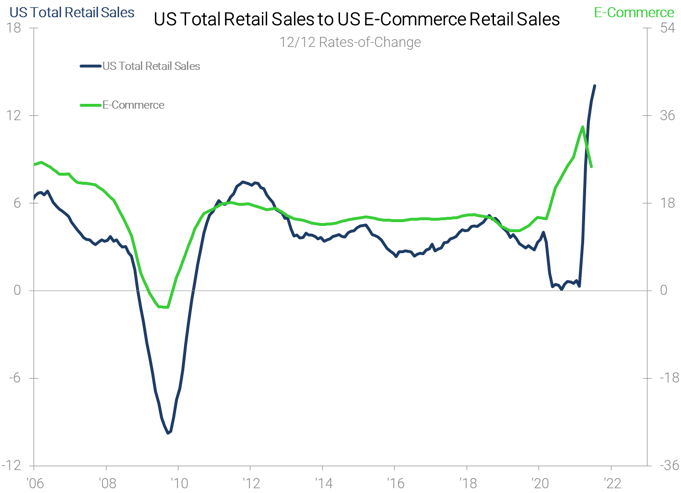 By determining your key indicators – generally a combination of leading indicators, macro indicators, market-specific indicators, and pricing metrics – you will have a much clearer picture of what to expect next year. Once you have a clearer revenue forecast, you will be able to identify what you need to get yourself there. Do you have enough machinery, a robust enough sales team, and capacity to meet your objectives? If the revenue forecast is below your expectations, what new initiatives can be taken to help you reach your goals?
If you would like help determining your key indicators or putting together a revenue forecast, please let us know. We are happy to help!
Jackie Greene
Vice President, Economics