Separating them is a good thing to do. It is what we do all the time.
We can understand why folks wonder how the forecasting accuracy has fared owing to all the political commentary, tariffs, regulatory changes, etc. The reality is that all the above has not had much of an impact on the accuracy of ITR Economics' forecasts. The table below presents the results through the first three quarters of 2019.
We show a similar table for annual results at our company-specific and public presentations. It is the only way you will know if the economist can reasonably anticipate the changes that are ahead or not. The first column lists eight headline measures of economic activity. They don't change. We don't cherry pick the best forecasts. Duration is how long the forecast was in place prior to September 2019, measured in months. Accuracy is how far from the forecasted average data point the actual result was (as you know we forecast in a range, typically a three-percentage point spread).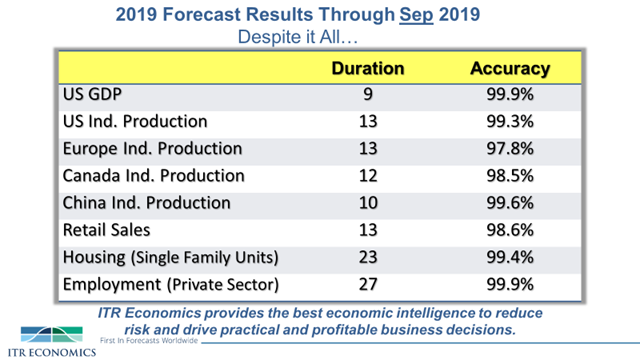 We achieve these results because we are experienced at separating rhetoric and noise (chaff) from what really drives the economy (wheat). It also helps us stay focused and able to achieve objectives when others are paralyzed by fear or reluctant to make a decision because of all the "what ifs".
"Wheat" is economic intelligence. We provide it. You can use it to cut through the chaff and craft a plan that will work.
Plan on a growing economy in 2020, particularly in the second half of the year. To hear more, listen to a recording of the December 17 Webinar with Alan and Brian, "Prepping for What Comes Next: Key Trends for 2020".