Actual results through July were on track with the forecast, but our analysis suggested the housing market was going to trend weaker than we had previously expected. The forecast was revised downward for the remainder of this year and for 2023. We are now forecasting the single-family starts trend will be negative into 2023. We expect February 2023 to be the seasonal low, and we think it will also represent a cyclical low. However, we are now thinking that appreciable year-over-year gains will not occur until the second half of that year.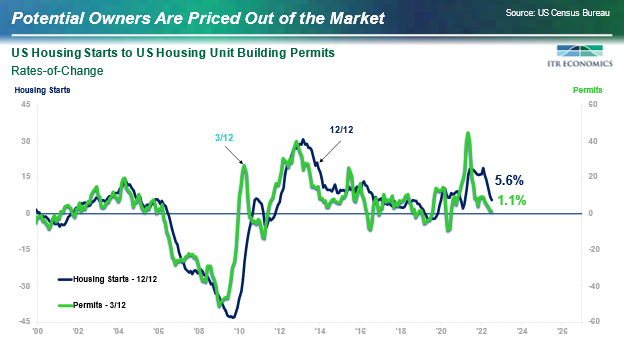 Affordability for new and existing homes is becoming an issue sooner than we expected. Mortgage rates are rising more quickly than normal relative to the federal funds rate and prior rising trends (see the next chart). Compounding the issue is the abnormally fast rise in home prices, as evidenced by the Case Shiller US Composite Price Index. The Index's 19.6% year-over-year increase in May was the highest such rate since 1948. The rapid escalation of prices stems from COVID stimulus money, societal restrictions, and low inventory.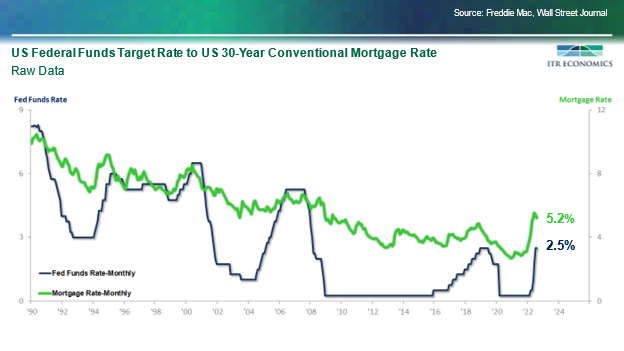 Another issue requiring a downward revision to our housing forecast is appraised values not moving up as quickly as contract prices, creating a cash gap at closing that became increasingly difficult to fill.
Additionally, the percentage decline in investors' share of single-family home purchases represented an appreciable, and unplanned, withdrawal of demand from the market at the same time consumer demand was abating.
Exacerbating the current situation is the torrid pace at which the Federal Reserve is attempting to compensate for delaying the onset of initiating monetary tightening. It is reminiscent of what Paul Volcker did in the early 1980s, when the Fed intentionally set out to squelch inflation regardless of the near-term impact upon the general economy.
We are anticipating some improvement in the second half of 2023 based on several factors:
The low inventory situation will continue.
Price rise is abating, and prices are coming down in some areas.
The normal length of rise for 30-year conventional mortgage rate rising trends is 28 months, which puts the high in March 2023. Real incomes are rising, and those sectors of the economy in which pay raises are lagging the CPI should be catching up in 2023. A risk here is that prior abnormally long rising trends in these mortgage rates occurred in the 1970s, a period of high inflation.
The Fed's goal seems to be pushing the federal funds rate to around 4.0%. We will be at 3.00% to 3.25% after September 21. This means we may be nearing a break in the Fed's push to deter economic growth.
Debt service, particularly mortgage debt service as a percentage of Disposable Personal Income, has been very low in 2022, and we are projecting it will remain low in 2023.
A couple of bright spots in the meantime:
The multi-family part of the market is holding up well, without any of the signs of weakness evident in single-family homes and existing homes.
We are seeing tentative renewed lift in the ITR Remodeling Index™.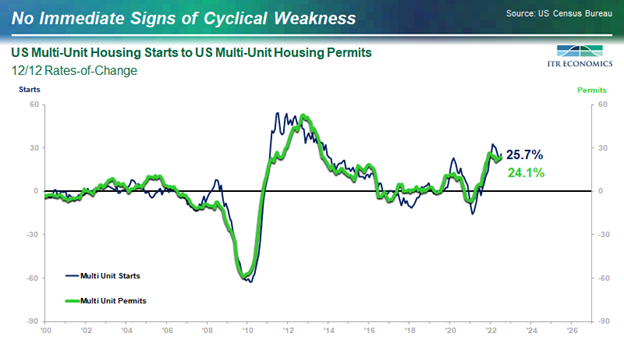 What to do:
Follow along with ITR Economics as we measure the dissipation in the home price rising trend.
Keep monitoring for an inverse yield curve between 10-year government bonds and 3-month Treasurys, because an inversion would be a sign of trouble for 2024 and perhaps late 2023.
Sign up for the ITR Insider™ to receive an exclusive webinar recording that will delve more into this topic. Learn more.