The US economy will be in recession in 2024. By itself, that statement can strike fear in any business. When attention is so focused on the economic downturn, it is easy for many business leaders to lose sight of what is on the other side of the horizon. ITR Economics can help you make sure your business is prepared for next year's downturn, but we also want you to be ready to capitalize on the opportunities following the 2024 recession.
What Happens to the US Economy After the 2024 Recession?
We are expecting the US economy, as measured by US Industrial Production, will be in a recession for most, if not all, of 2024. GDP will be essentially flat. Thanks to time-tested leading indicators and extensive data and research, we also know where the economy is headed after that.
You, too, can follow the key metrics that provide a glimpse into the future with ITR Economics' Trends Report™ subscription service.
Our US Industrial Production forecast calls for a 2.7% rate of growth for 2025. This, along with many other key datasets we track, suggests that 2025 is poised be a good year for various markets, industries, and economies around the world.
US Industrial Production
Forecast published in ITR Economics Trends Report on March 28, 2023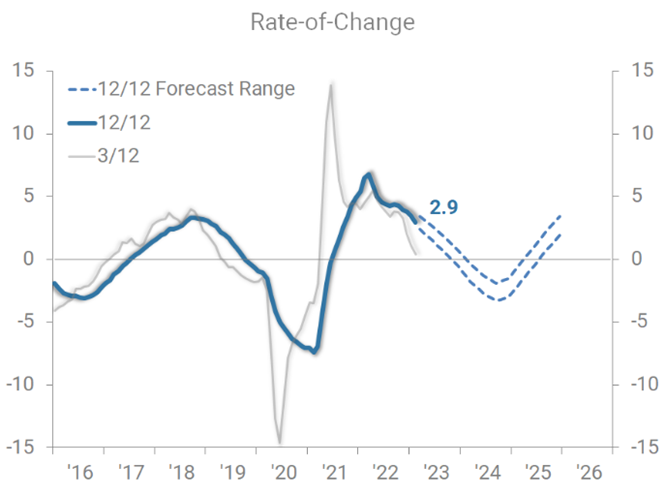 Of course, the economy is always changing, and "black swan events" can always happen. We are keeping a close eye on the actions of the Federal Reserve Board, and you can follow along with us via our "Fed Watch" series. Each week, ITR Economics CEO and Chief Economist Brian Beaulieu discusses the impact of the Fed's latest actions as well as any related developments.
How Should You Be Planning Now?
Crafting a business strategy for Phase D, Recession, is completely different from planning for Phase B, Accelerating Growth. So, how do you make the transition from recession planning to planning for economic growth?
Right now, businesses should be preparing for the upcoming recession and implementing their plans by the end of this year.
Once your strategy is in place and working the way you want or expect it to during this recession phase, your focus can shift to planning for the economic growth coming in 2025. Of course, this anticipated growth will be dependent on how business is going for you, how fast your industry moves, and other factors.
Toward the middle of 2024 will be a good time to implement your plans for 2025. Start by making sure you have the proper space, equipment, personnel, and training programs in place to take full advantage of the economic upturn.
[ Further Reading: Five Positive Benefits of a Recession ]
Business leaders cannot afford to be late to the party here, as waiting too long to prepare for the upturn may cause you to miss out on important sales or profits.
Imagine a scenario in which you need a new piece of equipment to keep up with the demand that is forecasted for 2025. Once you place the order, how long will it take for that piece of equipment to arrive? How much time will it take to install it, get it running correctly, and train your team to successfully operate it?
Making these crucial business decisions in advance will not only make your team ready to handle the increased demand, but it will also put you ahead of your competitors who are still trying to catch up.
While a recession can be a scary time for any business, you cannot let the negativity surrounding it consume your company. ITR Economics specializes in helping clients "See the Future First" and be fully prepared for the various twists and turns in the economy. Instead of getting hung up on the negativity in the moment, you can get your business in the right position to capitalize on the many opportunities ahead with accurate data and the proper plans in place.