It is easy to understand why there is a lot of caution in the business world given the pain of March and April in most aspects of the economy, but for many businesses, it is time to seize the day and move forward with vigor and confidence.
Leading Indicator Signals
We have presented a lot of information on our Leading Indicator Dashboard and a host of industry trends in our ITR Trends Report™ and an overall view of the economy in our Insider™ subscription, as well as in our presentations, blogs, and TrendsTalks. Most readers are well aware that there are 10 key leading indicators on the rise, Retail Sales are improving, numerous new orders trends are showing cyclical ascent, and our flagship economic indicator, US Industrial Production, in on the rise. For any who have missed it, the monthly data trend has risen an incredibly sharp 12.1% off an April low (data is available through July). Additional rise is expected. In April, the 1/12 rate-of-change (please see our website for more information on rates-of-change and how to use them to your advantage) reached its lowest level in over 73 years and is now rising at two times the steepest-normal pace. The industrial production segment of the economy is coming back on line, and it is time to plan with more recovery in mind for those who are positively correlated to US Industrial Production.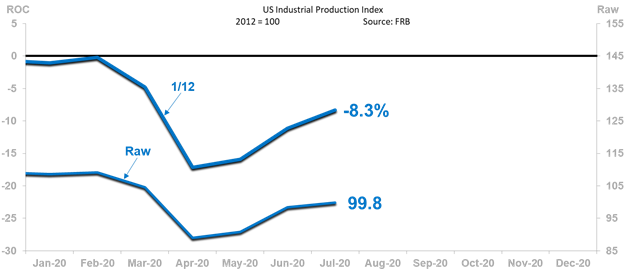 Items to consider:
Determine how you relate to US Industrial Production and key leading indicators. The result will be an actionable, confident view of your future.
Determine your cash requirements. We recently did a survey that highlighted that just over 62% of respondents saw cash as their major concern. And rightly so, in my opinion. It takes more cash to move into recovery and provide for increased demand, and you must be sure you have that cash either in hand, quickly accessible through orders accompanied by deposits, or accessible from non-operational sources.
Check your team's morale. Leadership initiatives, communication (followed by more communication), recalls of laid-off or furloughed employees, a return to full working hours, and restoration of cut wages must be considered.
Develop and communicate a new action plan for going forward.
Operations must be ready to deliver product or services in a timely manner, because if you do not, a competitor will.
Marketing must shift from selling "in these tough times" to "we are here to make sure you can capture every ounce of this recovery."
A plethora of leading indicators, Retail Sales, US Industrial Production, and other macro indicators are giving leaders the green light to move forward with confidence. Many will wait until they are absolutely positive and "everyone knows." That is the moment when you will be in front, and many will be trying to catch up to you.
Alan Beaulieu
President