Global and US supply chains cannot catch a break in 2021. Following in the footsteps of February's southern-US deep freeze, the Suez Canal Blockage, and ongoing US West Coast port congestion, the Colonial Pipeline shutdown was the latest external event to pile on supply-side struggles in an already inflationary environment.

The Colonial Pipeline is actually a vast pipeline system that spans from the US Southwest to the East Coast; it is the primary artery for the fuel supply across most of the East Coast. I leave it to the experts to sleuth out the origins of and motivations behind the cyberattack on Colonial Pipeline Company. What I will discuss is what it means on the economic side of things – which is, to be blunt, that 2021's already rising fuel costs will rise even faster in the short term.

The rising trend in US fuel prices was already underway. US Retail On-Highway Gas Prices averaged $2.95 per gallon in April. This was a 52.1% increase from April 2020, when the COVID-19-induced shutdowns were at their peak, decimating driving activity and consequently fuel demand. Charted below are the quarterly (3MMA) and annual (12MMA) averages for US Retail On-Highway Gas Prices since 2007: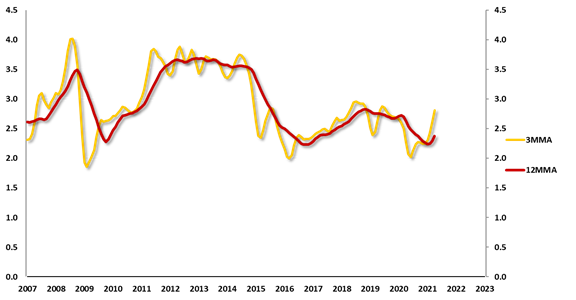 We can see that Prices were in the midst of a rising trend even before this latest supply chain disruption. Monthly Prices have been gradually rising since bottoming out in April 2020 and have adopted a more aggressive slope of ascent in 2021 as easing restrictions and ongoing vaccinations coax more Americans onto the road and into the skies, for both work and leisure. Prices averaged $2.81 per gallon over the three-month period ending in April 2021. Gas prices have not exceeded a national average of $3.00 per gallon at any point since late 2014, but it is probable that we will cross this threshold in the months ahead.
Per our current Crude Oil Spot Prices forecast, which is published in the ITR Trends Report™, we had anticipated rising quarterly Oil Prices into at least early 2022 due to rising demand, independent of this latest supply-side pinch.
Based on these developments, expect higher fuel prices for your summer vacation, or for your freight concerns, in the months ahead. As we know all too well, prices are quick to rise and slow to retreat. And, given macroeconomic rise, associated rise in freight volume, and our expectations for ongoing normalization as far as travel volume is concerned, the demand side of the economy will support a rising floor for pricing this year. Reported shortages and surge pricing will likely abate as this supply snag resolves itself in the weeks ahead, but the general trend of ascent will remain.
Senior Forecaster and Speaker