At ITR Economics™, our consultants and speakers frequently field a certain question: "When is the next economic downturn or recession?"
It's certainly an important question that should always be top of mind, but I would argue that understanding the transitions that occur during the "growth" phases of the business cycle is equally important.
Let me start by sharing that the US economy is in a sustainable recovery trend. Our forecasts call for expansion in the economy in 2021 and 2022. It would be a terrible mistake to assume that the rate of growth we expect for 2021 will continue into 2022. This is not the case, but it is an assumption that organizations tend to make. We are all too familiar with terms like "straight-line budgeting" or "linear budgeting." Little frustrates an ITR economist more than hearing such things mentioned in a capacity other than cautionary.
Through our analysis of business cycles, we know that the pace at which growth occurs is important to identify. We anticipate that the US industrial economy will reach a cyclical peak during early 2022, transitioning from Phase B, Accelerating Growth, to Phase C, Slowing Growth. It is crucial for you, a leader, to identify this inflection point, because you will make different decisions knowing that the pace of growth is slowing down.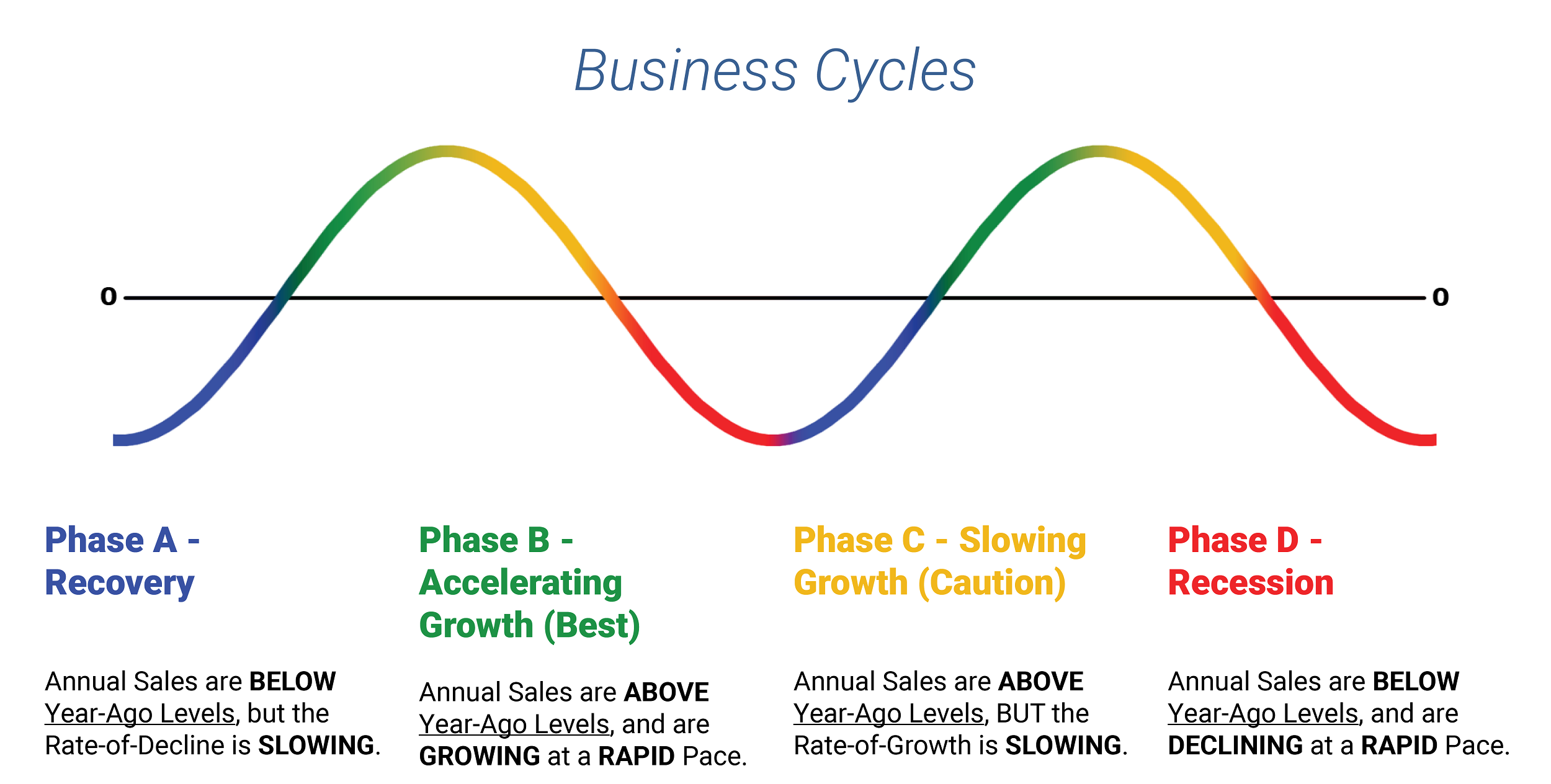 Looking beyond the early-2022 transition to Phase C, Slowing Growth, you will want to know what comes next. While our forecast for the overall macroeconomy says we will not see Phase D, Recession, in 2023, there are several segments of the economy that will be in Phase D, Recession, during that time. Knowing where your vertical markets are going to be will further help you plan for 2022 and 2023. Should you be conserving cash or increasing capacity? Knowing what lies ahead for you and your markets will help you make these key decisions and avoid costly pitfalls.
We have many tools that can help you navigate this business cycle, including our ITR Trends Report™, our Consultative Reports and Forecast Programs, and our new and improved DataCast™ tool.
Analyst and Speaker