The World Industrial Production Index entered Phase B, Accelerating Growth, as of April data. As we welcome the return of business cycle rise across much of the world, it is critical to note, however, that the economic rebound is not occurring in a simultaneous fashion across all geographies and countries. With resource allocation increasingly important in an era of shortages and delays, companies must be especially aware of geographic opportunities.
The industrial economies of many developed nations, including the US, Canada, Japan, and much of Europe , transitioned into recovery trends in the first half of this year . We expect cyclical rise to generally persist into early 2022 for many of these nations, before slowing growth takes hold that year.
World Countries Industrial Production 12/12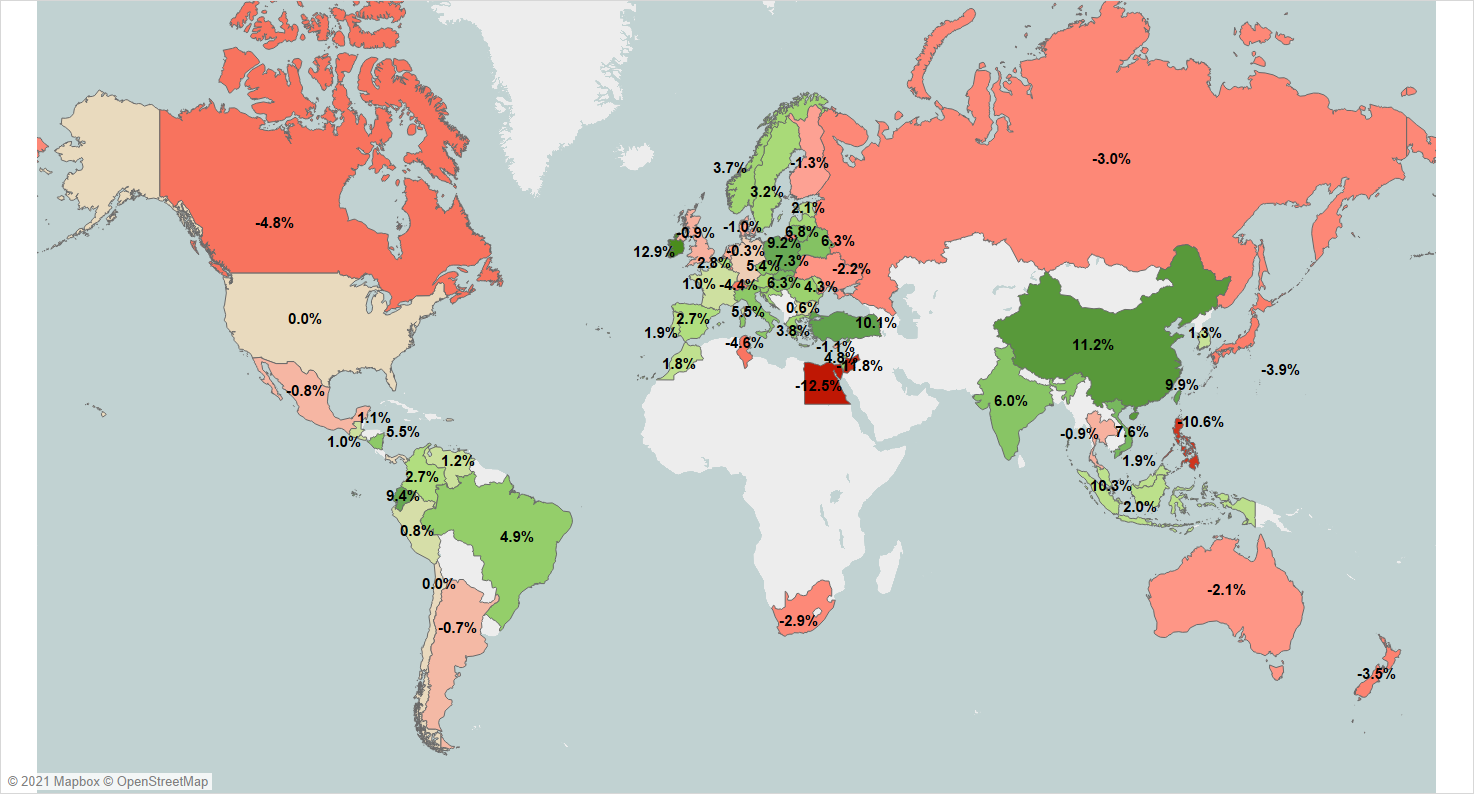 Source: FRB, Statistics Canada, China National Bureau of Statistics, Macrobond, ITR Economics
Other regions have already entered Phase B, Accelerating Growth. The Chinese industrial economy – which never entered Phase D, Recession, during the pandemic – has been in Phase B since August 2020. The South America Industrial Production Index for Manufacturing crossed this threshold in April, led by positivity in Brazil, the Index's largest contributor. Turkey has also rebounded strongly, with a 12/12 at 10.1% as of April.
However, recovery is not yet pervasive across the globe – especially in regions with limited or delayed vaccine rollout. The Middle East and North Africa Industrial Production Index, for example, remains in Phase D, Recession, with a 12/12 rate-of-change at -11.1% in April. Even Australia remains in recession, albeit a relatively shallow one, with a 12/12 of -2.1% in March. ITR Checking Points™ are positive for both regions, suggesting that cyclical rise is on the horizon. Furthermore, both the Middle East and Australia, along with many emerging market nations, are major commodity exporters. As industrial commodity prices rise this year, those nations will benefit.
Consider your global opportunities carefully as you allocate scarce resources this year. The Global Economy At-A-Glace in our monthly Trends Report™ is a great place to find ITR forecasts by region. While correlations are strong across much of the world, and many regional business cycles move directionally with each other, they are not perfectly matched. Understand these discrepancies and make your plans accordingly.
Lauren Saidel-Baker
Economist