It has been my pleasure to talk with numerous executives in different industries over the last few weeks, and many of them are still wondering if we are in a recession. We have dealt with that in prior blogs, so we won't go into that in depth other than to say that real (inflation-adjusted) GDP grew at a normal pace from June to September, and the 3MMA established a record high.
While the economy as measured by GDP has never been higher, many still wonder if we are on the cusp of a recession if not in one now. We are not on such a cusp, at least not yet. Other TrendsTalks and blogs have dealt with the danger lurking if the Federal Reserve Board remains overly aggressive, so we won't go into that either at this time. What we will do is look at some specific industries that are performing quite well. Please note that the following are production indexes, which means they are not stated in dollars and thus not inflated by rising prices. The NAICS codes are provided to make it easier to identify what is included on each row. I recommend searching for "NAICS code lookup" for an easy-to-use source for broader definitions. The US Census Bureau also provides detailed definitions for the NAICS codes .
Please note the righthand column on the table below. Five of the eight industry segments have 12MMAs that are at their highest in at least seven years, with two at 14-year highs. With production at these levels, readers engaged in these industries are likely to be busy. These lofty levels are the result of strong demand and have been reached despite supply chain issues. Firms that have managed costs, have been able to raise prices, and have managed customer expectations have likely enjoyed a good measure of prosperity from these management skills and from volume increases despite the supply chain and inflation headwinds.
All eight industries show 12/12s that are in Phase C, Slowing Growth. The rate of 12MMA rise will be slowing in Pharmaceuticals, Fabricated Metals, and Electrical Equipment. This is evidenced by the respective 3/12 Phase C designations, with the 3/12s tracking below the 12/12s. Industry participants should set 2023 budget and production plans for an increase over 2023. but not at the sharp year-over-year growth rates realized in 2022.
Manufacturing (excluding Motor Vehicles), Industrial Machinery, and Aerospace Products & Parts are in Phase C, which means the 12MMAs may continue to rise in 2023, albeit at a slowing pace. Readers engaged in Manufacturing (excluding Motor Vehicles), Industrial Machinery, and Aerospace Products & Parts may experience ongoing opportunities for prosperity in 2023.
The 12MMA for Rubber and Plastics Production is currently at the highest level in 14 years. Industry participants should plan on being busier in the coming quarters than they currently are. Cash planning and asset allocation and deployment will be challenging, but efficient operators with clear competitive advantages should find prosperity in 2023 if they successfully manage the labor issues (a subject of a future blog).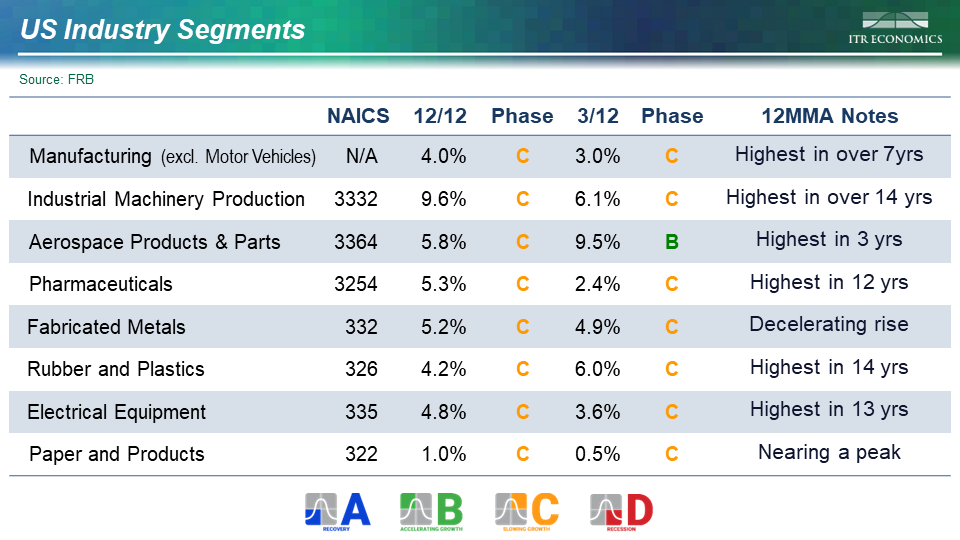 One of the keys to prosperity in 2023 will be knowing where you are in the business cycle by means of rate-of-change analysis. Another key will be realizing that your business and industry are not looking at a recession over at least the next few quarters. Constantly planning for recession distracts a business from maximizing existing and future opportunities. Lastly, we suggest a study of how future rate hikes by the Federal Reserve Board are likely to impact (or not impact) your industry and your company. We can help you with that.