Freight Movement
There will be ongoing upward pressure on the US Transportation Services Freight Index in 2021. The Index relates well to US Industrial Production and Retail Sales. Our forecast calls for both to be in Phase B, Accelerating Growth, this year. Leading indicators are also crucial to revealing the future, and our ITR Leading Indicator™ is a very dependable leading indicator for the Freight Index. The chart below shows that this key leading indicator is signaling upside business cycle pressure (rise in the US Transportation Services Freight Index 12/12, the blue line) into the second half of the year. Plan on increased demand if you are a freight carrier. Firms that depend on freight movement should plan on it taking more time for goods to be delivered to themselves or their customers.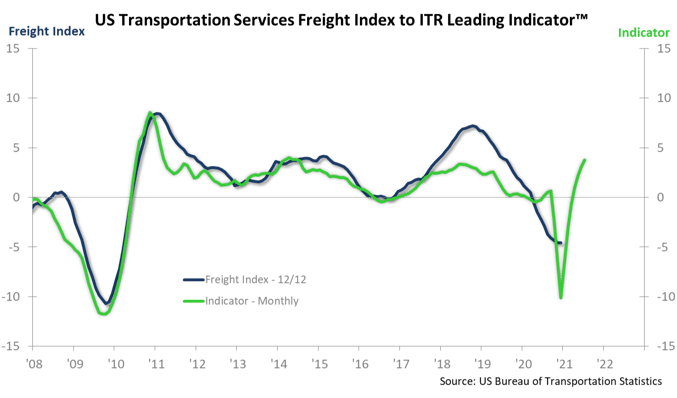 Freight Costs
The chart below shows that the US Truck Transportation of Freight Producer Price Index 1/12 (Freight PPI, the blue line) has a strong cyclical relationship to the US Industrial Production Index 3/12 (the green line). Changes in US Industrial Production, up or down, directly relate to changes to the Freight PPI. We are projecting that the Industrial Production 3/12 will move higher until about mid-2021, indicating that the PPI will move higher through mid-year. A Freight PPI 1/12 high around mid-2021 followed by potentially mild decline in the latter half of the year will likely result in freight costs that remain above today's level.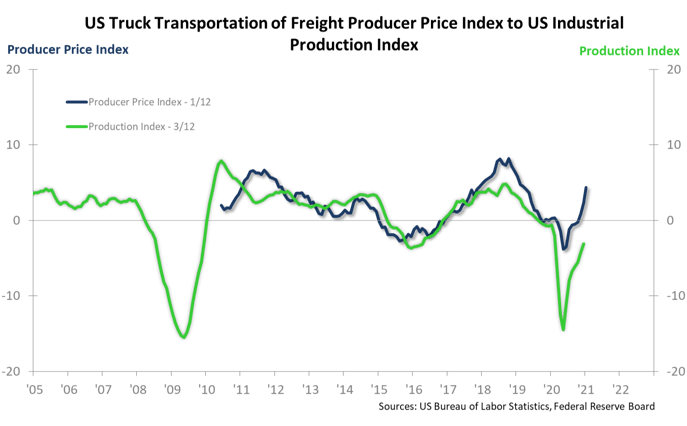 Labor
Driverless trucks may be coming someday, but they are not here yet, and the lack of drivers is pushing prices higher while creating some bottlenecks and delays in getting freight to where it is needed. General Freight Trucking Long Distance Employment is feeling the same pain as many industries in that there is a lack of labor, and employers are increasing labor rates as a result. Employment through year-end 2020 reached 760,600, up 27,900 drivers from the May 2020 COVID low. However, that still leaves the industry short 33,200 drivers from the July 2019 30-year high-water mark. A trip down any US highway shows that trucking companies are actively recruiting and offering good incentives such as limited days away from home and higher wages. The hourly rate for this industry was at a record high $27.05 through December 2020. The December 3/12 was also a record high at 5.2%, indicating that wages in the fourth quarter came in 5.2% higher than the fourth quarter of 2019. Trucking companies are aggressively raising wages in an effort to attract labor, but the hourly rate is still below those for construction, wholesale trade, and manufacturing. The trucking industry will continue to be labor challenged, at least until hourly rates move even higher.
Businesses that depend on freight are waiting on available trucks and face increased costs. Consider freight surcharges, and increase prices based on a clear value proposition as a way to protect profit margins. Increasing internal efficiencies through technology will also boost profits.
Please visit our website to see how you can take advantage of the ITR Leading Indicator and other key economic indicators. Seeing the future is a powerful tool in strategic and tactical planning.
Alan Beaulieu
President